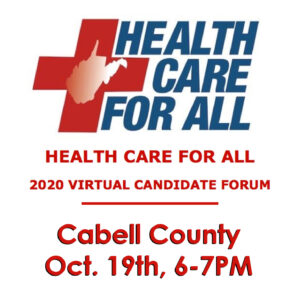 Cabell County Regional
Candidate Forum
On the subject of HEALTH CARE
Oct. 19th, 6-7:00 PM

You are cordially invited to attend and participate in our Virtual Candidate Forum for the greater Cabell County region, on the topic of Health Care, on Monday, October 19th, from 6-7:00 PM.
Candidates from across West Virginia and the Cabell County region will publicly discuss their positions on Health Care issues. This event will be moderated by Betty Barrett from the League of Women Voters, using a question and answer format.
This will be a great opportunity for attendees to hear from candidates and ask them questions. Candidates from all parties were invited.
List of Candidates who Accepted our Invitation:
Paula Jean Swearingen (D- US Senate)
Hilary Turner (D- US HD 3)
Sean Hornbuckle (D- WV HD 16)
Dakota Nelson (D- WV HD 16)
Chad Lovejoy (D- WV HD 17)
Jeanette Rowesy (D- WV HD-17)
Jason Stephens (R- WV HD-19)
We will be asking questions about the Affordable Care Act, School Safety, Minority Concerns in regards to health care, funding and stabilizing Medicaid, COVID response and more.
This is our last candidate forum for 2020. The public and press are invited to register and attend.
We really hope you can join us!