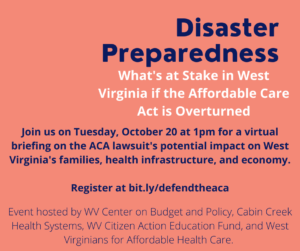 Disaster Preparedness: 
What's at Stake in West Virginia if the Affordable Care Act is Overturned
Tues. Oct. 20th, 1PM
Webinar Registration: bit.ly/defendtheaca
On Tuesday, October 20 at 1:00 pm, join the West Virginia Center on Budget and Policy, Cabin Creek Health Systems, West Virginia Citizen Action Education Fund, and West Virginians for Affordable Health Care for a briefing on the imminent threat to the Affordable Care Act (ACA) and what a decision overturning the health care law would mean for West Virginia's people, health care infrastructure, and economy. The president of the UMWA will be on to address the effects on Black Lung care.
Texas v. California, a lawsuit brought by Republican state Attorneys General that could overturn the entire ACA, will be heard in front of the Supreme Court of the United States next month. While a decision is not expected until next spring, a negative outcome would upend West Virginia's health care system and threaten the well-being of hundreds of thousands of West Virginians who rely on its sweeping patient protections and health coverage provisions.
Officials at all levels of government must adopt a disaster preparedness framework to ensure that plans are in place to mitigate- as much as possible- the significant and life-threatening harms that a court decision overturning the ACA would cause.
Speaking at the briefing will be:
-Kelly Allen, executive director of the West Virginia Center on Budget and Policy
-Cecil Roberts, President, United Mine Workers of America and Board Member of Cabin Creek Health Association
-Dr. Daniel Doyle,  a physician in Fayette and Kanawha Counties
-Dr. Jessie Ice, executive director of West Virginians for Affordable Health Care
-Joshua Carter, PsyD, director of MAT services at Cabin Creek Health Systems
–John Cline, Raleigh County, Black Lung attorney
-Jerry Coleman, President Kanawha County Black Lung Association
-Baily Hendricks, MAT patient and former Medicaid recipient
-Others to be announced
This event is open to the public as well as the media.
Register today at bit.ly/defendtheaca or 
https://us02web.zoom.us/webinar/register/WN_M7ehPam2QKi0HZFXubrVpQ.
Contact Kelly Allen at kallen@wvpolicy.org or 304-612-4180 with any questions.