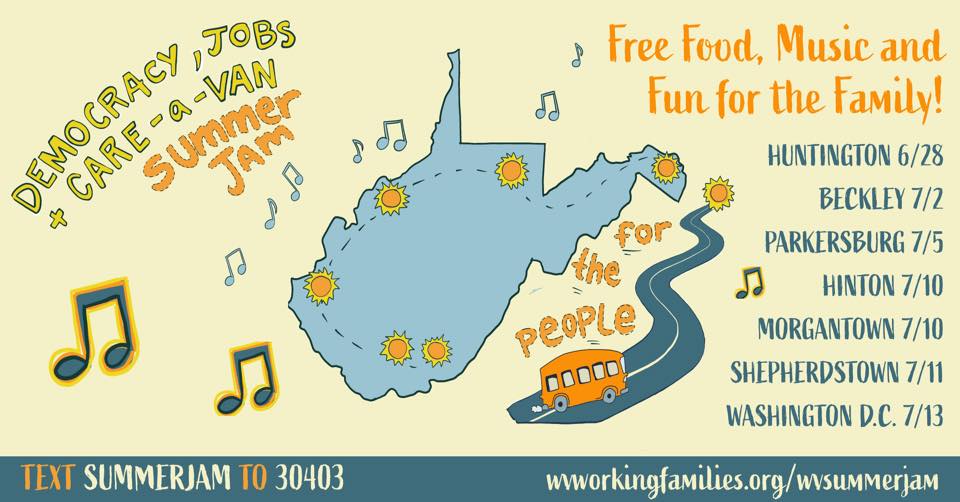 We're going on tour! Join the Democracy, Jobs and CARE – a – van Summer Jam: For the People concert series!
www.wvworkingfamilies/summerjam
FIRST STOP: HUNTINGTON!
June 28 5:00PM-8:00PM
Ritter Park
1340 Eighth Street, Huntington, WV 25701
FREE FOOD, MUSIC and Family FUN!
Jeremy Short @shortandcompany Jeremy Short
Heavy Hitters @Theheavyhittersband
Colten Settle
Kayla Medlen
FOOD
Southside Sliders @southsidesliders
Icecream A GoGo – Icecream Bicycle! @icecreamagogo
VENDORS/ARTISANS
Art By Linda 
Artbylinda.org
Bashful Bee @bashfulbeepress
Conjure Dust Design @conjuredust_design
TEXT SUMMERJAM TO 30403
We believe our elected leaders should do everything they can to ensure every person who wants to – and is able to – vote, can do so freely and fairly. We believe that our voices and votes must be counted equally in this country – otherwise the very foundation of our democracy will crumble.
We believe that every person deserves a good quality of life. This is why we fight for good paying jobs and quality care for all. We're losing too many West Virginians to other states because they simply cannot find jobs and care here at home – let's build a state where everyone who lives here can thrive!
FULL TOUR SCHEDULE:
I
Huntington
https://www.mobilize.us/wv-wfp/event/396887/
Facebook link: https://www.facebook.com/events/292027155940733
June 28 5:00PM-8:00PM
Ritter Park – Shelter #1
1340 Eighth Street, Huntington, WV 25701
I
Beckley
https://www.mobilize.us/wv-wfp/event/396895/
Facebook link: https://www.facebook.com/events/293315719159344
July 2 5:00PM-8:00PM
New River Park
513 Ewart Ave, Beckley, WV 25801
I
Parkersburg
https://www.mobilize.us/wv-wfp/event/396897/
Facebook link:https://www.facebook.com/events/516245749816893
July 5 5:00PM-8:00PM
Point Park
100 2nd Street, Parkersburg, WV 26101
I
Hinton
https://www.mobilize.us/wv-wfp/event/397078/
Facebook link:https://www.facebook.com/events/1121630921692597
July 10 11:30AM – 2:30PM
Summers County Huddle
City Park
Third & Temple Street, Hinton WV 25951
I
Morgantown
https://www.mobilize.us/wv-wfp/event/396899/
Facebook link:https://www.facebook.com/events/761254587903432
July 10 3:00PM-6:00PM
243 Pleasant St. Morgantown WV 26505
I
Shepherdstown
https://www.mobilize.us/wv-wfp/event/396900/
Facebook link:https://www.facebook.com/events/510067713560663
July 11 4:00PM-7:00PM Morgan's Grove Park
4198 Kearneysville Pike Shepherdstown WV 25443
I
WV to DC
July 13 for CARE Day of Action @ The Mall
https://www.mobilize.us/wv-wfp/event/397085/
Facebook link: https://www.facebook.com/events/1212729689205919