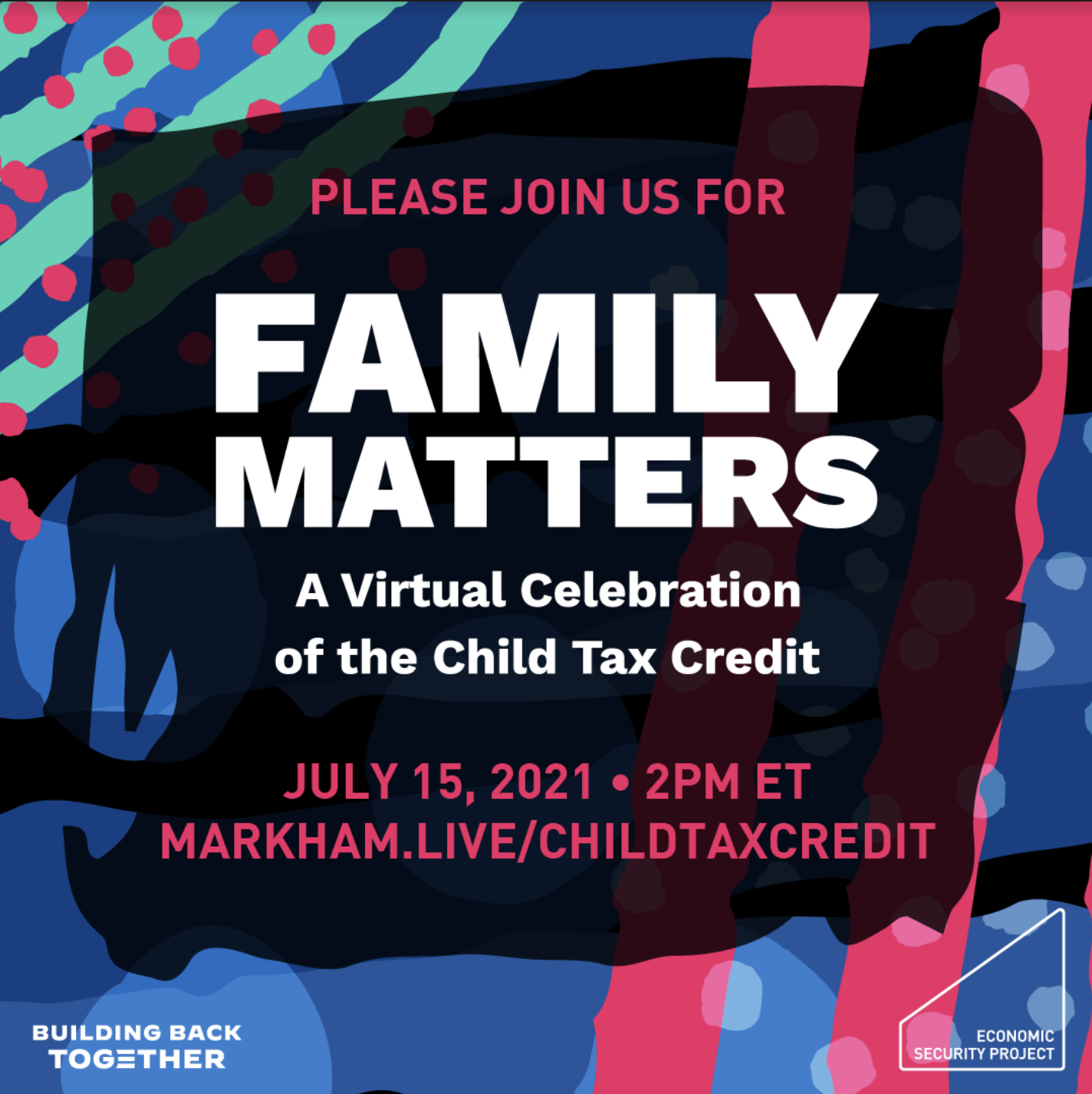 The historic Child Tax Credit is here to help all families succeed—and we're celebrating because your family matters. 
We are proud to co-sponsor Family Matters: A Virtual Celebration of the Child Tax Credit on July 15th at 2 p.m. ET, co-hosted by the Economic Security Project and Building Back Together, and emceed live by Dorian Warren and Melissa Harris Perry.
The celebration, in an effort to maximize awareness and show how transformative the Child Tax Credit is, will feature parents and families from around America and includes special appearances by: The Poor People's Campaign Co-Chair Reverend William Barber II, Color Of Change President Rashad Robinson, Former Stockton Mayor Michael Tubbs, Senator Raphael Warnock, Senator Elizabeth Warren, Representative Barbara Lee, Representative Rosa DeLauro, MomsRising Executive Director/CEO Kristin Rowe-Finkbeiner, Association of Flight Attendant President Sara Nelson, National Domestic Workers Alliance Political Director Jess Morales Rocketto, and more. 
Family Matters will stream live on Facebook.com/EconomicSecProj and at markham.live/childtaxcredit starting at 2 p.m. ET on July 15th. Don't forget to RSVP here: https://p2a.co/n9crzFJ
We're also excited to be joined by nearly 30 organizations as co-sponsors, including: Community Change, The Care Can't Wait Coalition, Center for the Study of Social Policy, Children's Defense Fund, Children's HealthWatch, Color Of Change, Community Advocates Public Policy Institute, Fighting Chance for Families, First Focus on Children, Fuerza, Golden State Opportunity, High Ground Institute, Income Movement, Leadership Conference on Civil and Human Rights, Lift, Marshall Plan for Moms, Mayors for Guaranteed Income, MomsRising, Mother's Outreach Network, MoveOn, National Women's Law Center, ParentsTogether Action, People's Action, RESULTS, Saver Life, Springboard To Opportunities, United State of Women, and Universal Income Project.
To learn more about the Child Tax Credit, visit www.ChildTaxCredit.gov — and don't forget to come celebrate! https://p2a.co/n9crzFJ