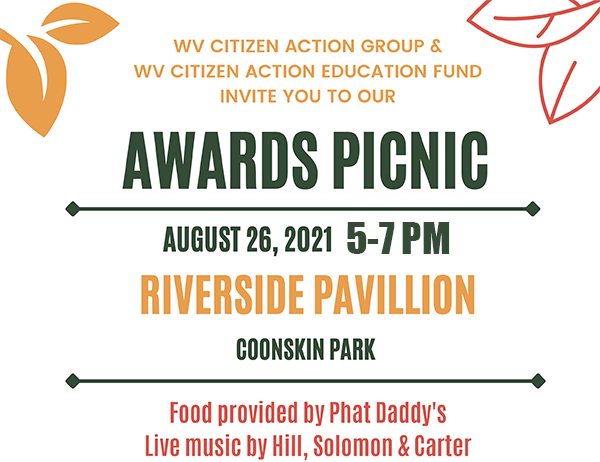 *UPDATE* – we'll start gathering at 5PM for live music, drinks and mingling, with food being served at 5:45 PM and awards ceremony starting at 6:30PM! Please follow masking and social distancing guidelines.
Let's keep our outdoor 2021 Awards Picnic event SAFE! As COVID-19 cases continue to rise, we must all do our part to slow the spread. To that end, our Awards Picnic will be following all the guidelines:
– The event will be held outdoors in a shelter with ample ventilation;
– Masks will be required, except when eating or drinking;
– There will be ample room for social distancing while sipping drinks, eating food and mingling;
– Phat Daddy's Catering will be masked and gloved while serving;
– There will be ample hand sanitizer available, and restrooms for full handwashing.
Citizen Awards Picnic – Get Your Tickets Now!
Location: Coonskin Park (just outside of Charleston), Riverside Pavilion
Music: Courtesy of the trio,  Hill, Solomon & Carter – names that many of you recognize and have heard in various bands over the years! 
Food: Traditional picnic fare with both meat and veggie burgers 
Fun: Outdoor location with play equipment for kids and walking trails
Awards: Short program to recognize several folks for their outstanding work
Ticket prices are suggested donations of $50/person or $25 for students and low-income individuals.
Pay what you can afford online at  tinyurl.com/2021WVCAGPicnic or if you prefer, send a check to WV-CAG, 1500 Dixie St. Charleston WV 25311. If you know you're attending, please purchase your ticket(s) ahead of time so we know how many folks we're feeding!
Even if you can't attend, please consider making a donation to support the work. This is a critical time for our state and nation and we need all the resources we can muster to win! Thanks ahead of time for your support!