Activists in West Virginia and around the country have been working tirelessly to protect our freedom to vote in the face of a flurry of blatant anti-voter bills designed to make it harder to vote, especially for communities of color.
And while many communities have had success holding off these attacks, we can't hold these anti-voter bills off forever. The House of Representatives already passed sweeping legislation to protect our freedom to vote and realize the promise of democracy for all. It's urgent that the Senate acts now to pass the Freedom to Vote Act and delivers for the American people so all our voices are heard.
Earlier this year, Senator Joe Manchin co-sponsored the Freedom to Vote Act – a once-in-a-generation bill that would fix our broken political system and save democracy. But with so much attention on infrastructure in Washington, the Freedom to Vote Act risks being swallowed up by other priorities.
That's why we're partnering with groups across the state to keep democracy at the table and let Senator Manchin know we're counting on him to prioritize passing this bill.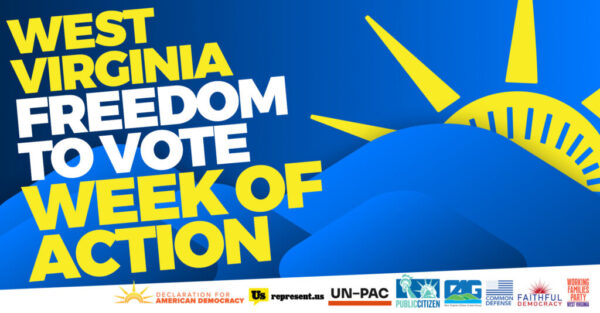 Please take two minutes to call Senator Manchin's office. Tell him it's up to him to save democracy, history is watching and urge him to prioritize the Freedom to Vote Act. 
Senator Manchin's Office Numbers and Locations
In addition to making calls, community activists and organizations are holding "Freedom to Vote: Time to Act!" actions to show our senators that we demand concrete progress in protecting our voting rights. Join us at an event near your or sign up to host your own. 
Together we can and will win this fight to protect our Freedom to Vote! 
In Solidarity,
WV Citizens for Clean Elections