Demand Fair Maps! Tell Senators to End Gerrymandering, Pass the Freedom to Vote Act
In October, the Legislature convened in special session to draw new boundaries for state legislative and congressional districts. Despite the good intentions of some members of the Joint Committee on redistricting for the process to be open and transparent with ample opportunity for public input, the approved maps were drawn behind closed doors and ignored the pleas of residents around the state who asked that their communities be kept whole. 
The final House of Delegates plan unnecessarily divides many communities and towns across the state, including Elkins, Lewisburg, and Shepherdstown, as well as the historic and majority Black community of Institute and the neighboring town of Dunbar, which also has a large African-American population. The House maps were approved by a nearly party-line vote after the Republican majority blocked a number of amendments that Democrats proposed to address concerns raised by constituents and local elected officials in their districts.
Similarly, the final Senate redistricting plan, which was passed after considerable drama and disagreement within the Republican party ranks, carves up some of the state's largest counties, attaching portions of their urban areas to adjacent rural counties that are more conservative. Kanawha County will now be divided into three districts instead of two. Monongalia County remains split between two districts, even though the county's population only deviates from the target population of 105,513 by 309 people, large enough to have its own district. 
Experts and advocates warned that this year's redistricting process was particularly prone to gerrymandering as the House of Delegates moved from a mix of single and multi-member districts to comply with a law the Legislature passed in 2018 that requires all delegates be elected from single-member districts for the first time in the state's history. And that's exactly what happened. 
The public was told that neither voting behavior nor the addresses of incumbents were considered, however, both the House and Senate plans have a decidedly Republican lean, giving the majority party a significant advantage in elections over the next decade. Fair districting should reflect the will of the people, rather than ignoring or undermining their political preferences. Actually taking voters' preferences into account so that the potential makeup of both bodies would be proportional to total votes cast for candidates of each party in prior elections would have resulted in fairer, more competitive districts than what we ended up with. 
The outcome has only reinforced calls for establishing an independent redistricting commission rather than letting legislators draw the maps that govern their own elections. Although commissions in some states have given this potential solution a bad wrap for falling short this cycle, experts have pointed out that most of the problems have surfaced in states with poorly designed commissions that leave partisan actors heavily in the mix. Short of an independent commission, establishing a specific list of factors that can (and cannot) consider in the redistricting process, including factors designed to promote partisan fairness and prevent favoritism toward incumbents, as well as requiring that public hearings be held after redistricting plans are proposed, but before they are adopted would go along way toward improving the process.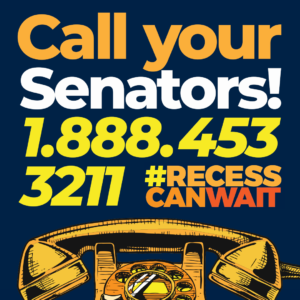 Additionally, with hyper-partisan legislative and congressional maps being adopted around the country it's critical that we pass the Freedom to Vote Act to end partisan gerrymandering once and for all. The House of Representatives already passed this transformative legislation to protect our freedom to vote and realize the promise of democracy for all. It's urgent that the Senate acts before it's too late to counter the attacks on voting rights before the 2022 elections and before a decade of partisan gerrymandering takes hold.
Call our Senators now and tell them to do whatever it takes to pass the #FreedomToVoteAct and get it signed into law. #RecessCanWait