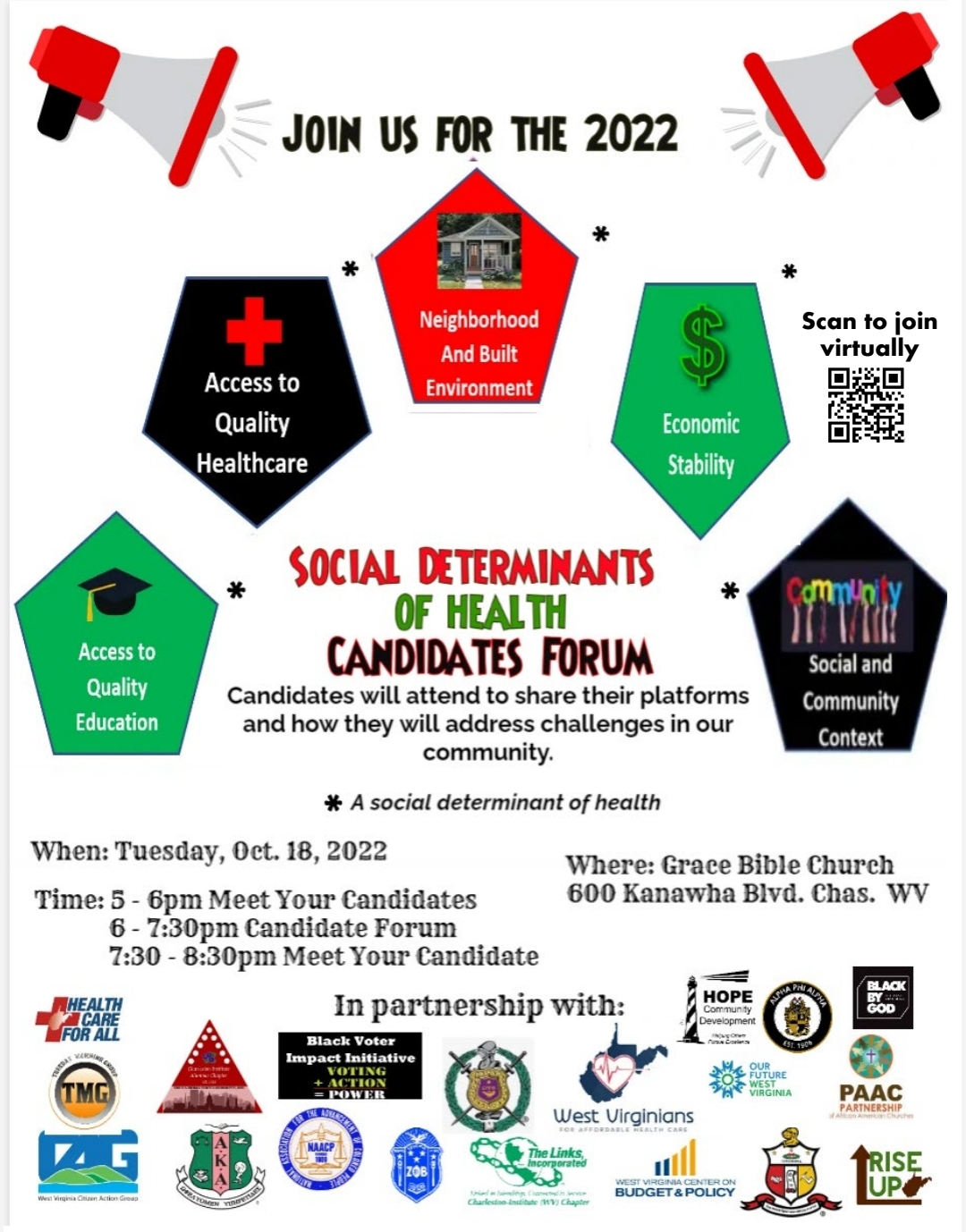 SAVE THE DATE!
Oct. 18th, 5-8:30 PM
Kanawha County Candidate Forum
On the subject of HEALTH CARE
You are cordially invited to attend and participate in our Social Determinants of Health and Health Equity Candidate Forum for the Kanawha County region, on Tuesday, Oct. 18th, from 5-8:30 PM.
The event will be located at Grace Bible Church, 600 Kanawha Blvd. W, Charleston, WV 25302
Meet Your Candidates: 5PM-6PM
Candidate Forum: 6PM-7:30PM
Meet Your Candidates: 7:30PM-8:30PM
Candidates from across the Kanawha County region will publicly discuss their positions on Health Care and Health Equity issues.
This will be a great opportunity for attendees to hear from candidates and ask them questions. Candidates from all parties were invited. The public and press are invited to register and attend.
This event is sponsored by:
– Alpha Phi Alpha Fraternity Inc. Alpha Iota Lambda Chapter
– Alpha Omicron Omega Chapter of Alpha Kappa Alpha
– Black By God | The West Virginian
– Black Voter Impact Initiative
– Beta Omega Chapter of Alpha Kappa Alpha
– Charleston Alumni Chapter of Kappa Alpha Psi Fraternity, Inc.
– Charleston-Institute Alumnae Chapter of Delta Sigma Theta, Inc.
– Charleston-Institute WV Chapter of The Links, Incorporated
– Charleston Branch of the NAACP
– Health Care For All WV
– Hope Community Development
– Our Future West Virginia
– Partners of African American Churches (PAAC)
– Rise Up WV
– Tuesday Morning Group
– West Virginians for Affordable Health Care
– West Virginia Center on Budget & Policy
– West Virginia Citizen Action Education Fund
– Xi Alpha Chapter of Omega Psi Phi Fraternity, Inc.
– Zeta Phi Beta Sorority Inc. – State of West Virginia
We really hope you can join us!