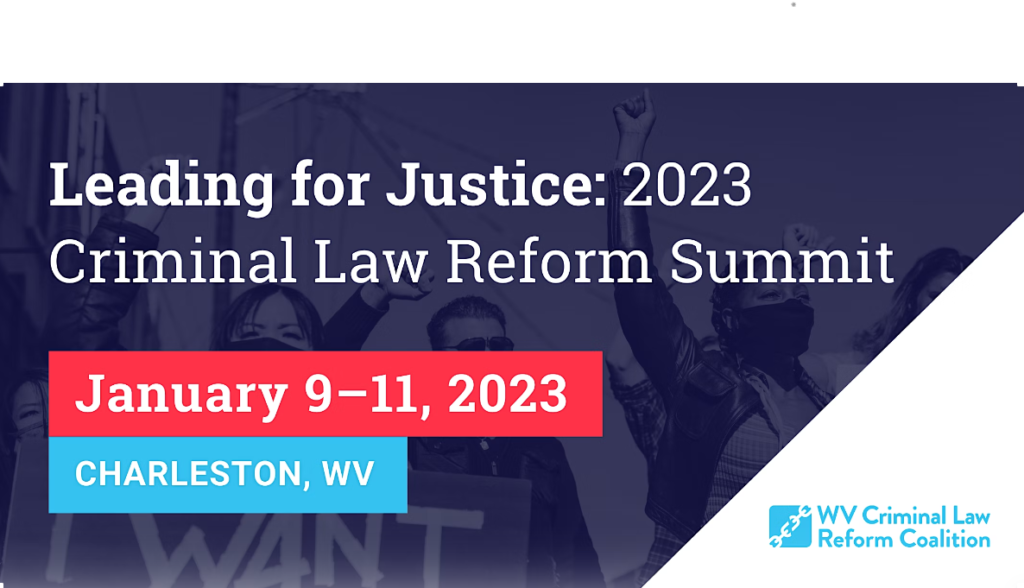 We invite you to attend "Leading for Justice: Criminal Law Reform Summit" January 9th-11th in Charleston, WV.  
Led by those with lived experience, this one-of-a-kind conference will be a space to reimagine the criminal legal system, and culminate in a collective day of action at the WV State Capitol during the first day of the 2023 state legislature.
Here is the schedule at a glance:
Monday, January 9th
Welcome dinner and story-telling training after which all of us will share a little of our story.
Tuesday, January 10th
The day will be chock full of opportunities to learn and connect, featuring policy roundtables, citizen advocacy panel, issue breakouts on topics like restorative justice, harm reduction, trauma in the criminal legal system, ending the school to prison pipeline, and more!
Wednesday, January 11th (first day of the 2023 legislative session)
Legislative breakfast at Trinity Lutheran Church followed by a day of action at the State Capitol.  Together we will advocate for policy changes including:
Restored voting rights for people on probation and parole;
Expanded transitional housing for people leaving incarceration;
Automatic expungement for qualifying criminal records;
Ending re-incarceration for technical violations and;
Increased community diversion to mental health care and treatment for substance use disorder.
Register TODAY!  You can follow and help amplify the event on Facebook here.
If you need a scholarship to attend OR you cannot attend but would like to make a contribution towards sponsoring others to attend, please contact Lida Shepherd at Lshepherd@afsc.org.
. . .
The Leading for Justice Summit is sponsored by American Friends Service Committee, WV Center on Budget and Policy, REACH Initiative, National Association of Social Workers-WV, NAACP-WV, Appalachian Prison Book Project, and Laotong Yoga; and made possible through generous support from The Just Trust, The One Foundation, and Sisters Health Foundation.