Right now the Governor and the Legislature are sparring over the best way to give tax cuts to the wealthy and big businesses — at our expense. The Governor's income tax plan to cut personal income taxes would eliminate 25% of our state's annual revenue. The Senate wants to give away $500 million to out of state corporations in the form of rebates on the taxes they pay on their inventory and equipment. Every West Virginian would pay the price because of the gaps that would be left in the state budget.
Cutting revenue when our roads are crumbling, our schools are suffering a teacher shortage, and even the state employment office has 150 vacancies because of low pay, just doesn't make sense. We need a budget that reflects our priorities: investments in programs that benefit all West Virginians, not tax cuts for the wealthiest.
Tell the Governor and your legislators: No tax cuts until our needs are met!
The Governor will be in Bridgeport on Monday and Martinsburg on Tuesday (details below), if you want to show up and tell him in person. Click here to send a message to your legislators now to tell them their priority should be getting our house in order to better support West Virginia families.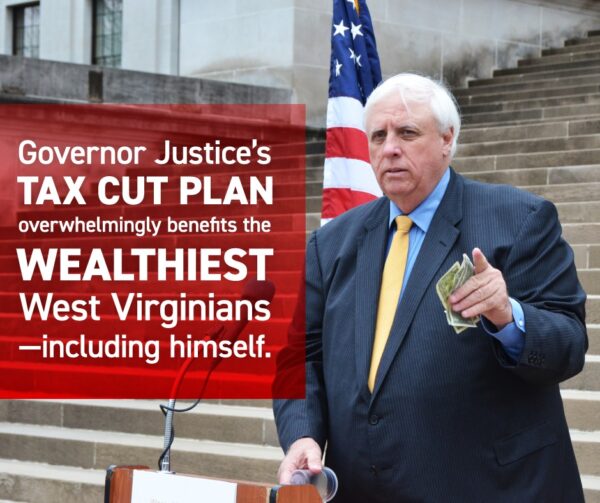 ---
Gov. Jim Justice and Secretary of Revenue Dave Hardy will hold town hall events to discuss the Governor's proposal to reduce the state's personal income tax by 50%. 
BRIDGEPORT
WHEN: Monday, January 30, 2023, at 12:00 p.m.
WHERE: Bridgeport Conference Center
300 Conference Center Way, Bridgeport, WV 26330
Live stream: https://youtu.be/5DzmxPsAyuk 
MARTINSBURG
WHEN: Tuesday, January 31, 2023, at 12:00 p.m.
WHERE: Berkeley County Clerk's Office – Old Courtroom
100 W King St, Martinsburg, WV 25401
Live stream: https://youtu.be/SM_HYK9I3qg