TOMORROW, Thursday, February 2, the House of Delegates will hold public hearings on two bills we told you about in our Capital Eye Legislative Update. See details below on how you can speak out to protect healthcare for trangender youth in West Virginia and support investments to help our communities thrive. 
---

HB 2007 threatens to ban gender-affirming care for transgender youth in West Virginia. This includes puberty-blocking hormone therapy and all other gender-affirming medical care that saves the lives of our trans youth. 
Suicide is the second leading cause of death among young people aged 10 to 24, and LGBTQ youth are more than four times as likely to attempt suicide than their peers. Access to gender-affirming care and gender-informed care is critical to survival. This bill seeks to further marginalize our LGBTQ+ community, and puts our loved ones in danger. 
Stand up in allyship with our trans community and attend the

Public Hearing on HB 2007 TOMORROW February 2nd at 9:00 AM. 
The hearing will occur in the House of Delegates Chamber at the WV State Capitol main building. If you wish to speak, you will need to arrive by 8:30 AM. If you cannot attend the hearing, call or email your Delegate to tell them you support healthcare for the LGBTQ+ community, including gender-affirming care for transgender youth, and urge them to oppose HB 2007. You can also submit testimony here or volunteer to read the testimony of other West Virginians who cannot attend.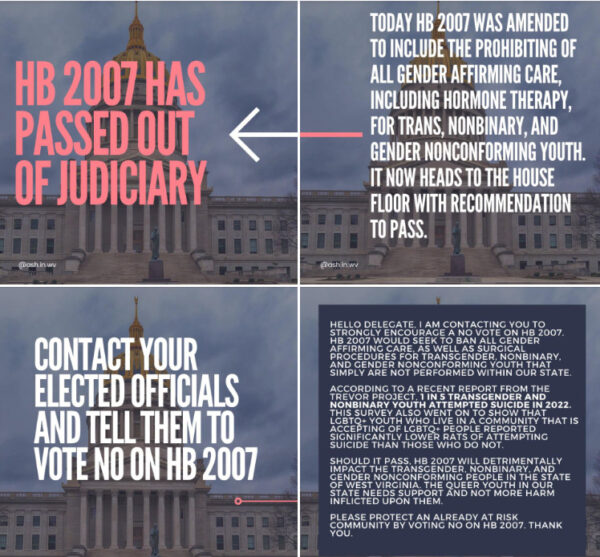 ---
Public Hearing on Allocation of COVID Relief Monies
Federal coronavirus relief funds from the American Rescue Plan Act (ARPA) are supposed to be used to address needs of those most impacted by the pandemic. The Tuesday Morning Group has a plan supported by CAG and others, which proposes using a portion of these funds to address long-standing disparities in health care and economic opportunity in minority and low-income communities across West Virginia.
Instead of investing in our people, the Governor wants to divert $500 million of the $678 million remaining funds to the state Economic Development Authority. This requires the Legislature's approval and HB 2883 is the vehicle that would authorize it. However, cash handouts to corporations are not allowable use of ARPA funds. 
The House Finance Committee is holding a public hearing on HB 2883, TOMORROW, February 2 at 2PM, in the House Chamber. This is our opportunity to call out the questionable use of ARPA funds by the Governor, for regular West Virginians to weigh in on how they should be spent to help our communities, and to show support the TMG's proposal for common sense investments in education, job training, economic development, housing rehabilitation, programs to support at-risk youth, and initiatives to improve rural and community health access. 
Please arrive by 1:30PM if you plan to speak. If you can't make the hearing, please contact members of the House Finance Committee to share your concerns about the misuse of these funds, and let them know that we want them to invest in our communities rather than rubber stamping the Governor's "reverse robin hood" scheme. Or you can use this form to share your comments, and we'll make sure they are submitted to members of the House Finance Committee. If we have enough volunteers we will read them into the record.
Black By God has an article here and other background stories. On Friday, Rev. Matthew Watts, a Charleston pastor and convener of the TMG gave a presentation to the Senate Workforce Committee where he was able to make the case for using ARPA funds to improve housing, health, workforce, economic and social service coordination.