These healthcare issues need your action today!

MEDICAID DENTAL COVERAGE BILL
SB 269 would raise the Medicaid Dental Benefit from $1,000 to $2,000 a year for adult recipients. Dental and vision health are vital and inseparable from overall health. The WV Legislature voted to expand dental coverage for adult recipients of Medicaid in 2021. Prior to this change, Medicaid only covered dental extractions, leaving many lost without affordable dental coverage to prevent and treat common dental health problems.
This bill is a natural next step to expand health equity in the state of West Virginia. SB 269 passed the Senate Health and Human Resources Committee unanimously and has since sat with the Senate Finance Committee for three weeks. Time is being cut close for this bill to be passed through the WV Senate and moved to the WV House of Delegates.
To help make this change happen, contact your WV Senators and tell them why you support SB 269 and ask them to support dental coverage for all West Virginians too. Then contact Senator Tarr (Chair of the Senate Finance Committee) and urge him to put SB 269 on the Senate Finance Committee agenda!
Tell your lawmakers you support 
better dental health for the folks of this state!
https://p2a.co/ZlRI4aA 
---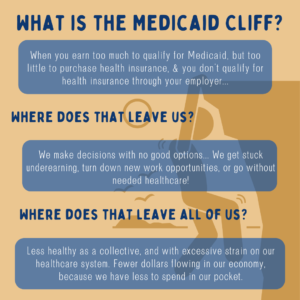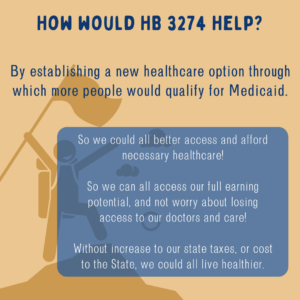 Medicaid buy in SB 610 and HB 3274
On February 13th, SB 610 was introduced to the Senate Health and Human Resource Committee. On February 3rd, HB 3274 was introduced to the House Health and Human Resource Committee. If Either of these bills were to pass, it could be a huge step in eliminating the "Medicaid Cliff Effect". Those who approach the Income eligibility cap for Medicaid would no longer have to try to figure out if they can afford a raise that would cost them their healthcare, or if accepting more hours will stop their family from having coverage. Trying to get ahead should not put families farther behind.
SB 610 and HB 3274 present an opportunity for Medicaid to become a more solid foundation for families in poverty to pick themselves up from.
Please contact Delegate Summers and urge her to put HB 3274 on the agenda for the Committee on Health and Human Resources.
Then call Senator Maroney and tell him to put SB 610 on the agenda for the Senate Health and Human Resources Committee.
Best of health to you and your loved ones,
Kim Jones
Coalition Coordinator
Health Care for All WV