BallotReady Election App Unveiled as Part of WV Informed Voter Project
Contact: Gary Zuckett, garyz@wvcaef.org 304.437.3701
Charleston, WV – On the first day of early voting, WV Citizen Action Education Fund (WV CAEF) is excited to announce a new resource for helping voters identify candidates and issues they support with a new, easy to use election app called BallotReady.
https://citizenvote.civicengine.com/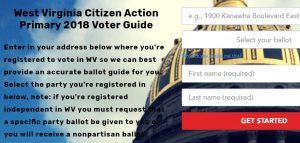 "BallotReady is a great tool to help citizens become informed voters," commented Gary Zuckett, Executive Director of WV Citizen Action Education Fund. "It enables voters to cut through the fog of political ads and make their own decisions on whom to vote for."
BallotReady is a non-partisan civic engagement tool that enables users to find comprehensive ballot information for their own voting precinct. The tool displays candidate bios, stances, endorsements, and relevant news all in one place. BallotReady enables users to find their polling place, make a plan to vote, easily save, and be reminded of the information prior to and on Election Day.
How it works:
Users type their address into a landing page and BallotReady automatically pulls the choices they will see when they enter the polls. Users are able to research candidates that will appear on their ballot, make a sample ballot, and make a plan to vote.
It addition to displaying every candidate and state and local referendums, users can explore candidates further and navigate to the information's origin.

The tool is strictly nonpartisan, so all information on stances is taken directly from campaign websites, press releases, etc.
The West Virginia state tool includes all municipal and board of education races

After exploring the candidate information, users can save the information they like and create their own sample ballot with the "add to my ballot" feature.

Users can create an account with their name and email to receive automatic email reminders and the sample ballot they created to print and take with them to the polls.
This tool will allow West Virginians to view and search candidates that will appear on their ballot all in one place

Users are able to easily find more information about when and where they can vote with the "make a plan to vote" tool.

Users pick the day, the time they will vote, and find their polling location.
WV Early Voting Dates will be outlined!
Users receive reminders via text and email and can add to their calendars
This BallotReady tool is available to any citizen or civic group for use to help get informed voters to the polls! https://citizenvote.civicengine.com/
###