Legislators and citizen groups call for a stronger water quality rule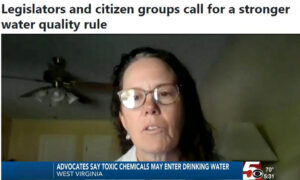 NORTH-CENTRAL, W.Va (WDTV) – West Virginia legislators called for a strong water quality rule at a virtual press conference hosted by West Virginia Citizen Action and the West Virginia Environmental Council.
At its all-day meeting Wednesday, the Legislative Rule-Making Review Committee will consider the proposed water quality rule as part of its agenda. All members of the committee were invited to today's press conference.
"West Virginia has had more than our fair share of toxic spills, including the horrible 2014 Freedom spill, which deprived over 300,000 of drinking water. We have the third-highest rate of cancer in the country," said state Delegate Barbara Fleischauer (D-Monongalia).
All members of the committee were invited to today's press conference…
https://www.wdtv.com/2020/09/24/legislators-and-citizen-groups-call-for-a-stronger-water-quality-rule/