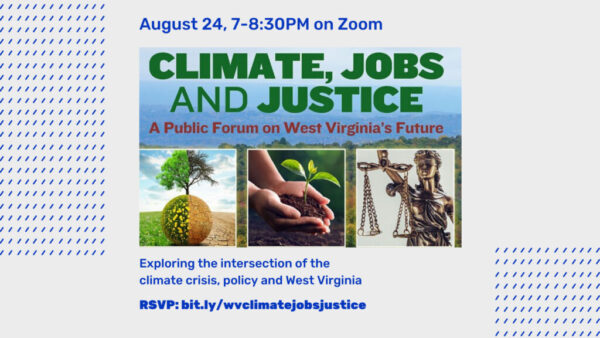 State and national experts to discuss benefits of climate action at 'CLIMATE, JOBS and JUSTICE' Forum at 7 p.m. Tuesday, Aug. 24 
CHARLESTON, WV (August 19, 2021) — The West Virginia Climate Alliance, a new coalition of 20 state and local organizations, will virtually host "CLIMATE, JOBS AND JUSTICE: A Public Forum on West Virginia's Future" from 7 to 8:30 p.m. on Tuesday, August 24. The forum is a free event where local and national leaders will discuss the risks climate change poses and how smart, strategic steps on climate change could benefit the West Virginia economy. Register at this link.
Collin O'Mara, president and CEO of National Wildlife Federation, is calling for climate action that considers the impacts on coal-producing communities. "We are already experiencing more frequent and more intense floods, fires, and droughts that threaten our way of life," he says. "It is past time for action on climate, but we can neither ask nor expect West Virginia's coal communities to trade one crisis for another." 
The latest Intergovernmental Panel on Climate Change report, released earlier this month, found that the impacts of climate change can now be seen in every part of the world, including all regions of the United States, but also notes that limiting greenhouse gas emissions will quickly improve air quality.
Pam Nixon of the West Virginia NAACP explains that this would have immediate health benefits in West Virginia, where communities with mountaintop removal mines and heavy industry also have high rates of birth defects, cancer and heart disease. 
"Mining and industrial pollution pose health risks to all Mountaineers, but the risks are not distributed equally," said Nixon. "West Virginians should band together to demand state and federal climate action that will protect our health and interrupt the patterns of environmental injustice that have been harming our residents for more than a century." 
Sean O'Leary, a senior researcher at the Ohio River Valley Institute, just authored two new reports on the economics of fossil-fuel dependent communities. "With the promise of new federal funding and the emergence of a new model for successful economic development in chronically distressed fossil fuel communities, West Virginia has a rare opportunity to fully participate in and benefit from the nation's transition to a clean energy system," he said.
Jeremy Richardson, a senior energy analyst with the Union of Concerned Scientists and the author of a joint report with the Utility Workers Union of America, said that comprehensive, robust, and sustained resources are critical. "The nation's energy mix is already shifting away from coal, and that trend is set to continue. Rather than offer false hope, investing in workers and communities that have sacrificed so much to build this country will give them the fighting chance to be part of the clean energy economy that they deserve."
Climate change will have significant impacts on West Virginia's mountains, rivers and forests, even changing the types of trees that are able to grow in the state. "In the coming decades, our rivers and drinking water will be increasingly stressed by both droughts and floods," said Angie Rosser, executive director of West Virginia Rivers. "We need to address the root of the problem while protecting the waters that are essential to our quality of life." 
"We have squandered the time when we could leisurely address the climate crisis," says West Virginia Climate Alliance co-founder Perry Bryant. "While it's not too late, we now have to act decisively in order to avert the worst impacts of climate change."
CLIMATE, JOBS AND JUSTICE: A Public Forum on West Virginia's Future will stream from 7 p.m. to 8:30 p.m. on Tuesday, Aug. 24. For more information and to register to attend, visit: www.wvclimatealliance.org/events.