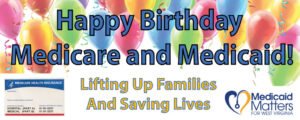 Join WVCAG, noon Saturday, July 30th at the Kanawha City Health Center, located at 4602 MacCorkle Ave SE in Charleston, WV, for a celebration/press event centered around the 57th birthday of Medicare and Medicaid.
Speakers at this event will discuss important healthcare issues, such as:
– Protecting and Expanding Medicaid
– Protecting Medicare from Privatization
– Allowing Medicare to Negotiate Prescription Drug Prices
– Eliminating the Medicaid Cliff for West Virginians and Allowing Buy-In
Personal healthcare stories will also be shared. The public and the press are invited to attend.
This event is co-hosted by: Cabin Creek Health Care Systems, Health Care for All West Virginia, WV Citizen Action Group, West Virginians for Affordable Health Care, Physicians for a National Health Program of West Virginia, Rise Up WV, Protect Our Care, and others.